The Elgin Coin Club (ECC) is a group of collectors mainly from the Elgin, Illinois, area. Join us the first Wednesday of any month at 7pm. Starting January 8th, 2020 we will be meeting at the Wesley United Methodist Church.(Map and details).
We have two coin shows every year. Click here for details on this year's shows.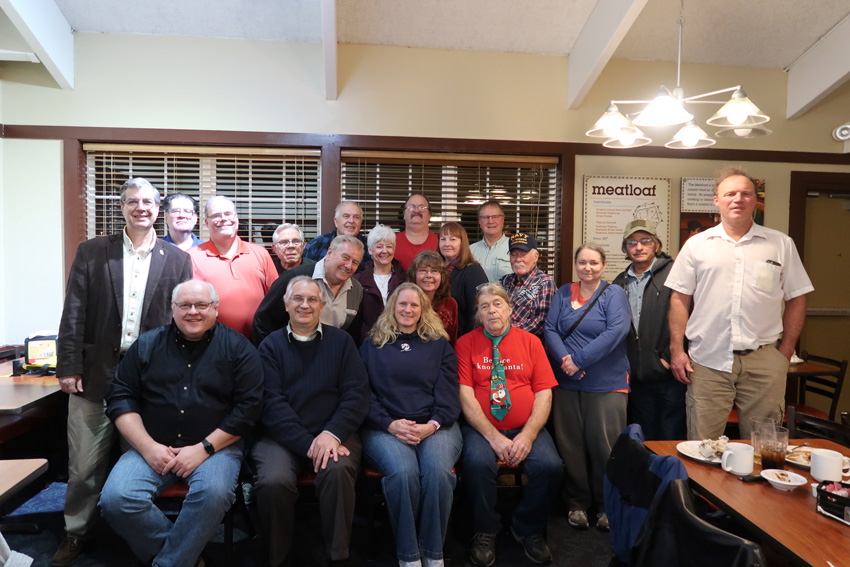 These are the Elgin Coin Club members at the December 2019 Christmas party.
---
This document was last changed 12/12/19. if you have any suggestions.
---
Our Meetings
We meet monthly at 7:00 pm on the first Wednesday of every month. Starting January 8th, 2020 we will be meeting at the Wesley United Methodist Church on South Street in Elgin, IL.
Visitors are always welcome.
Our Elgin Coin Club meetings offer many opportunities to enjoy our hobby and share it with others. Some of our activities include:
Good talking with fellow collectors
Show & Tell of all manner of coins
Videos on many numismatic subjects
Guest speakers talking about their specialties
Raffles with many prizes
Special 50/50 cash raffle (half to winner half to club)
Member bourse sales
Two annual auctions of member coins
Two annual White Elephant auctions
An annual holiday dinner.
---
Board Meeting
We have a monthly board meeting about two weeks after the regular meeting. The officers get together at an officer's or a board member's house or at a location otherwise determined by the officers. This is an open meeting. Members are welcome to all board meetings. If you want to attend, contact an officer for the time of and directions to the meeting place.
Return to Table of Contents
---
Elgin Coin Club Annual Coin Shows
Each year we have two coin shows in March and October. 2019's shows are Sunday, March 31, and Sunday, October 27. Plan to join us. The show runs from 8:00 am to 3:00 pm. It is a lot fun with many activities including, but surely not limited to:
Free admission
Free parking
U.S. and foreign coins and currency, gold, silver, copper, along with other numismatic items bought and sold
Free prizes for all young collectors
Youth (YN) auction (October only)
Free coin grading & appraisal
Free door prizes every half hour
Buy, sell, and trade at around 34 browse tables.
The shows are still at the Holiday Inn at 495 Airport Road, Elgin. It is located at the 1st light north of I-90 on Rt. 31.
We look forward to seeing all of you and your friends at this year's show!
Our raffle winners from our Spring show were:
GRAND PRIZE-----65" HD 4K TV....................Chuck Martin
1st Place prize-$100 sequential $1 bills........Cathy McCoy
2nd Place prize-Silver Proof....................Art Schattke
3rd Place prize-1 oz. Silver Bullion............Peter Pelke
For more information about the show, you can also contact our show chairman Guy Hultberg at 847-804-6362.
Return to Table of Contents
---
Contacting Us
Contact us by mail at:

P.O. Box 561
South Elgin, IL 60177

You can also contact us by email at

Return to Table of Contents
---
Our officers
President - Pete McCoy
Vice President - Howard Curtis
Treasurer - Rosemarie Kahn
Secretary - Arthur Schatke
Return to Table of Contents
---
Associations
The Elgin Coin Club is a member of:
A.N.A. 28457
C.S.N.S. R6906
I.L.N.A. 1299.
Return to Table of Contents
---
Membership Dues
Membership dues in the Elgin Coin Club, payable by the end of February each year, are:
$20 family membership (immediate family, adults and children)
$5 junior member (YNs) under 18.
Joining ECC
To become a member, you have attend two meetings. At the first meeting you can apply for membership and at the second we welcome you into the club when there is no opposition to your joining. If you already know a member, you can join the first night.
Return to Table of Contents
---
ECC History
The first Elgin Coin Club meeting was in September, 1957. That means that we have endured the full length of the Space race. Sputnik went up in October, 1957, a month after we started. The Memorial Lincoln cent debuted two years after we started. We have been around for more than one fifth of the time the United States has existed!
ECC Exonumia
During its history, the Elgin Coin Club has issued tokens and other exonumia. we currently have accounted for these:
We issued a 1976 bicentennial 50-cent, aluminum, "good-for" token redeemable at the Elgin American Legion.


We issued rolled coins in 1990. Some were done on 1990 cents, the year of issue, and others on 1957 cents, the year the club started. We have also found three made from Polish 5 Zlotich coins.


We issued several wooden nickels. One celebrates the 12th annual Elgin Coin Club show on September 29, 1974. Another generic one probably was issued around the same time. Yet another was issued for the 40th Annual Coin Show in 2002.

Read more about the above items (except the 2002 token in "Elgin Coin Club Tokens" in Money Meanderings: An Introduction to Numismatics.


When the Elgin Coin Club celebrated its 500th meeting on August 4, 1999, each person at the meeting received a souvenir bill honoring the meeting and good for one dollar towards club dues. The bill included pictures and signatures of the officers and a picture of all members present at the April, 1999, meeting. Read nore about this souvenir bill.


During our 40th Annual Coin Show we issued notes "Good For" one dollar in trade at dealers at the show.
Some Other Facts
Many other clubs have came and gone in the length of our history. McHenry County Coin Club was around when we started, but it closed its doors in the mid-'90s. A set of wooden nickels were issued in 1965 for the Greater DuPage Coin Festival by five area clubs: Tree Town's CC, DuPage CC, West Suburban CC, Wheaton CC, and Westmont CC. None exist today.
We have met on various days:
3rd Wed '69
2nd Wed '86, '90
1st Wed since Apr 91
And we have met at different places:
'69 Carpenter Hall, S. Grove St.
'90 Dieterle's Rest, S. McLean
'92 to 2013 VFW, Weld Road. - beginning with our 400th meeting.
'14 to Januray '16 Elgin Moose Family Center. S. McLean Blvd.
February '16 forward back in VFW, Weld Road.
Return to Table of Contents
Menu
Current
Gold and Silver
Prices

ECC Newsletter index
Our Meetings
Board Meetings
Annual show
Officers
Associations
Dues
Joining ECC
Contact ECC
ECC pictures
ECC history
500th meeting note
Internet links
Article index to 2000

I am Michael Kahn the communication chairman and editor of the Elgin Coin Club website. Please click here if you have any comments, suggestions, or questions.


This site is hosted by PCDatanet, LLC. Please visit PCDataNet, LLC. for any IT Consulting needs your business may have including Hosted VoIP.

Updated 12/12/19
Copyright 2000-2019, Michael Kahn